Tank Water Heaters
We Service and Repair All Makes and Models of Hot Water Heaters
It's been a long, tough day at work and all you want to do is have a shower and relax, but as you turn on the water you realize it's not warming up… Upon investigation, you discover your hot water tank has sprung a leak! Don't panic, don't stress, Noris Heating and Cooling has been helping Winnipeg homes replace their hot water tanks for over 20 years and they can help you too!
Our Featured Tank Water Heaters
Explore The Models That We Carry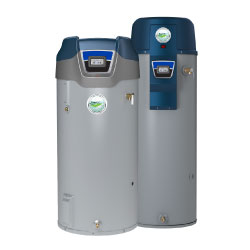 John Wood Water Heaters
John Wood's full range of residential electric, gas, propane, tankless and oil-fired water heaters are manufactured to the highest quality standards.
TANK WATER HEATER REPLACEMENT
If your existing tank water heater is not running efficiently anymore or just not keeping up with your water demand – call Noris Heating & Cooling today. We can get your hot water flowing again.
Your local Winnipeg water heating experts at Noris Heating & Cooling is here to help you with tank water heater replacement. Our team of highly trained and professional technicians and installers can have a new high-efficiency tank water heater from John Wood installed promptly.
NEW TANK WATER HEATER INSTALLATION
Is it time to replace your current water heater with a high-efficiency tank water heater? Building a new home? Noris Heating & Cooling is your local Winnipeg water heater new installation expert. We can take care of any new tank water heater installation you may need.
Our highly trained team of installers and technicians will work with you to design a new tank water heater system. Ensuring that the unit will match your lifestyle needs.
Get in touch with us today to begin your new tank water heater installation process with a free estimate. We install water heaters from John Wood.
Schedule Tank Water Heater Replacement or New Installation
At Noris Heating and Cooling, we sell top of the line Hot Water tanks at prices that won't hurt your bank account and we can offer financing too!
At Noris Heating and Cooling, we've been helping Winnipeg stay and keep warm for over 20 Years! Call or click anytime, 24/7, with any of your furnace problems.
Whether it's because there's no heat coming out of your furnace or it's blowing cold air, making noises, or not running at all we've fixed it all and we will work hard to fix yours too!
Noris is dedicated to keeping the Winnipeg and surrounding areas comfortable all winter long, no matter the weather. Get in touch with us today to schedule the service you need.
Noris provides full-service repair and installation for all makes and models of indoor air quality products.
Call or click today if you are experiencing any of the following issues:
Frequent illness/constant allergies
Stale air in your home
Humid rooms
Furnace air has an odd odor
Air ducts have accumulated dirt, dust particles, debris, and pet dander
Schedule Furnace, A/C or Water Heater Service with Noris Today!